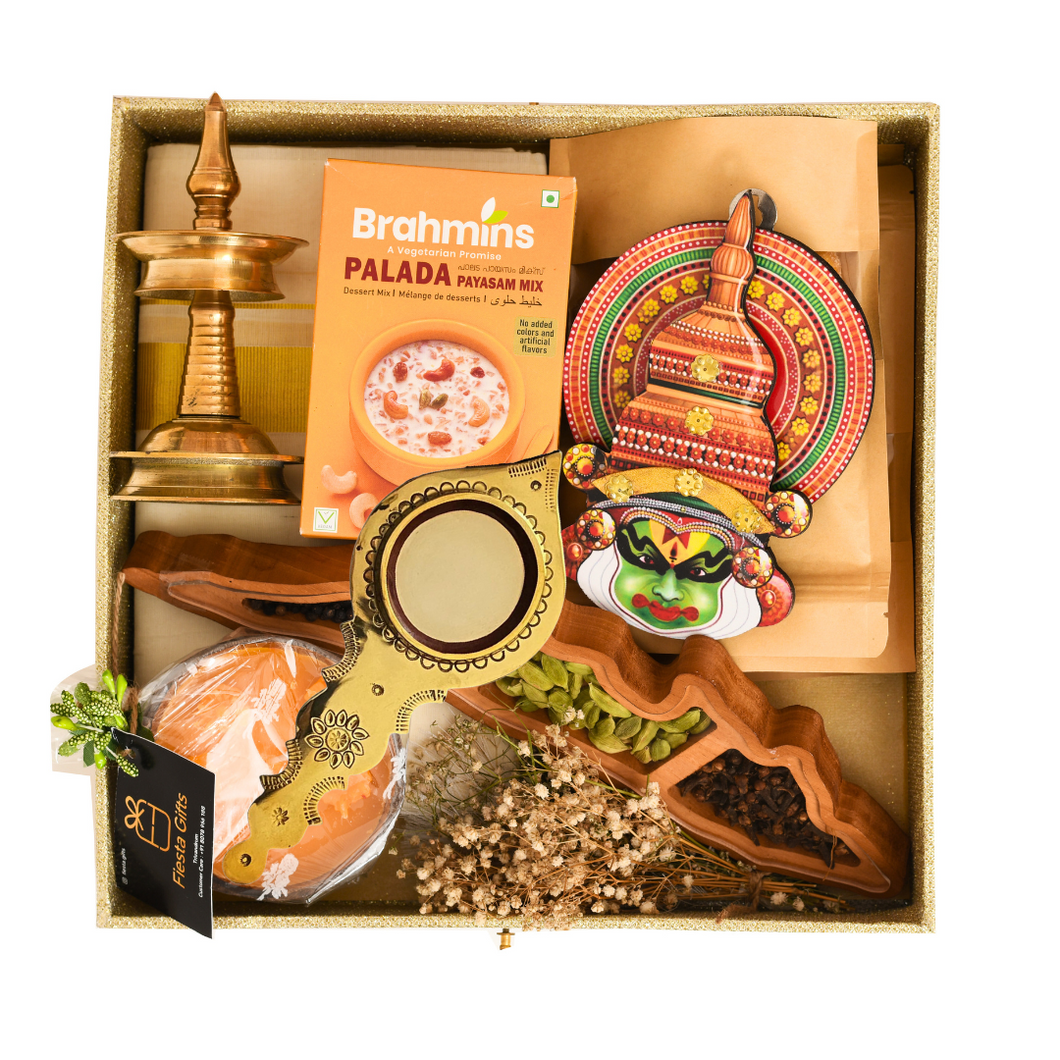 Aranmula Kannadi Gift Combo FG03M
AranmulaKannadi
Regular price Rs. 8,000.00 Rs. 6,999.00 Sale
Introducing our Kerala Elegance Gift Hamper, a magnificent assortment that encapsulates the essence of God's Own Country. This meticulously curated hamper blends the most cherished symbols of Kerala's culture, tradition, and cuisine into an extraordinary gift that radiates opulence and authenticity.
Aranmula Kannadi (Metal Mirror):

Handcrafted with precision in Aranmula, Kerala, this metal mirror stands as a testament to tradition and artistry.
Its unique composition and casting method have been passed down through generations as a closely guarded secret.
Revel in the regal reflection it offers, echoing the rich cultural tapestry of Kerala.

Kathakali Face Mask:

Immerse yourself in the drama and grandeur of Kerala's iconic Kathakali dance form with this exquisitely hand-painted face mask.
Every intricate detail is a testament to the vibrant characters that come to life on the stage.
Display it as an enchanting piece of décor or wear it to channel the spirit of Kerala's age-old theatrical tradition.

Spice Box:

Kerala's world-renowned cuisine is at your fingertips with this finely crafted spice box.
The intricate woodwork houses multiple compartments to keep an array of spices and herbs neatly organized.
Add the flavors of Kerala to your culinary creations with this delightful spice box.

Kerala Dhothi:

Wrap yourself in the traditional attire of Kerala with this elegantly designed and authentic Kerala dhothi.
Crafted from top-quality fabric, it exemplifies Kerala's timeless fashion and style.

Small Vilakku (Lamp):

Illuminate your surroundings with the enchanting glow of Kerala's Small Vilakku, a symbol of the state's artistic heritage.
The intricate design and craftsmanship make it a stunning piece of decor and an embodiment of Kerala's artistry.

Kerala Chips and Palada Pack:

Delight your taste buds with a tempting assortment of Kerala chips, offering a medley of delectable flavors.
Satisfy your sweet cravings with the heavenly Palada, a traditional Kerala dessert made to perfection.
Our Kerala Elegance Gift Hamper is a true celebration of the state's rich heritage, combining art, tradition, and culinary delights into one extraordinary package. Whether you're treating yourself or gifting it to a loved one, this hamper encapsulates the very essence of Kerala, turning every moment into a special occasion.